Yaesu FT-102 Ham Radio For Sale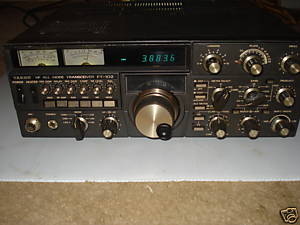 The Yaesu FT-102 ham radio isn't like any other. This amateur radio has the best of both worlds, with it's awesome receiver specs and tx audio sound. The FT102 utilized a solid state design for the majority of the parts and design, but reserves the highest amounts of stress to quality tube components for the final transmitter assembly.
View Current Yaesu FT-102 and Equipment For Sale
Also, the Yaesu FT-102 has shared design attributes as the FT-1000d. Audo gurus are absolutely in love with the warm, clean, clear, and quite audible modulation this ham radio can deliver. A Yaesu FT102 holds it's value very well, and often sells for a higher price tag, when you resell it.
Yaesu FT-102 inventory is getting harder and harder to come by. Use the link below, to find current used Yaesu FT-102 inventory for sale.