Yaesu FT-101 For Sale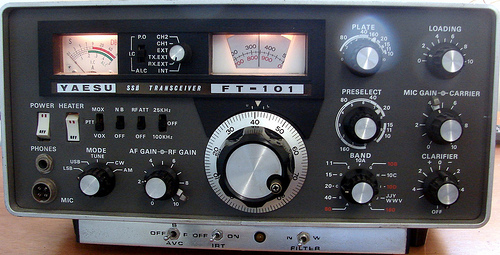 More general info about the Yaesu FT-101 series
View Current Yaesu FT 101 Radios For Sale
Yaesu FT-101 ham radios are a hybrid of solid state design and tube finals. The FT101 transceiver was made in the 1970s, yet is still desired to this day. One reason for this, is because the Yaesu FT-101 is both an affordable ham radio for both new hams and those on a tight budget, but also generates great audio clarity and durability.
The Yaesu FT-101 generally puts out a good 150 watts (whereas most rigs today only offer 100 watts). This is a 50% in transmit power improvement. Results can vary, depending on the quality of the tubes used, settings, and so forth. The FT 101 series includes many slight model variations, including the 101b, 101E, 101EE, and the 101zd as well.
The Yaesu FT101 runs tubes in the final transmitter stage, so a built in heater is used to heat up the tube filaments. They ft-101 has to be tuned to some degree, using the front panel settings.
View Current Yaesu FT 101 Radios For Sale