Icom IC-706MKIIG Ham Radio For Sale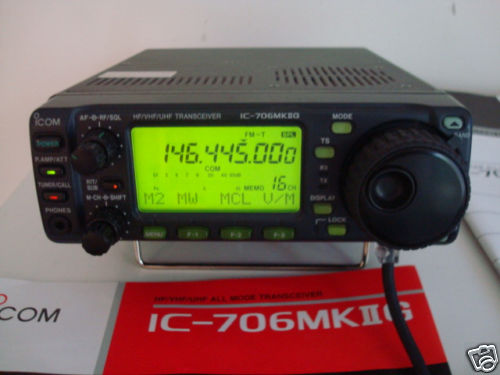 Arguably one of the most popular HF/VHF, and even UHF amateur mobiles made, the Icom IC-706MKIIG set the standard with it's multi-mode and multi band coverage. HF through VHF, this neat, small but solid mobile transceiver has it all and in a small package too! There are all kinds of neat add-ons for this mobile radio, including AF DSP (UT-106 dsp unit), TXCO, optional voice synthesizer, and remote mounting kits, and so forth.
Continue to View Icom IC 706 Radios For Sale
This model was later replaced by the IC-7000 which is a great transceiver in its all right, however many like the 706 series over the model that recently replaced it. Another great perk with this model was it has a great receiver with excellent sensitivity which made it perfect for mobile installations with their small, inefficient antennas on the lower HF bands. This Icom mobile series had a great receive section, nice and easy to read display, and was truly a do it all rig, in a compact package.
Want to buy? View Current inventory below:
Continue to View Icom IC 706 Radios For Sale
Proceed to View Icom IC 706 Radios For Sale