Kenwood TM-271A VHF Mobile Ham Radio For Sale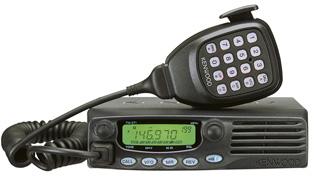 Kenwood TM-271A 2 Meter Vhf mobiles for sale below.
View Current Kenwood TM 271A Radios For Sale
A little about this mobile transceiver:
The Kenwood TM 271A two meter ham radio comes with 60 watts of RF power, is extremely durable (meets military specs) and is loaded with popular features (see below):
It takes a rugged vehicle to meet the challenges of the wilderness, and Kenwood's new TM-271A is tough. This compact, MIL-STD-compliant transceiver deliver powerful mobile performance and such advanced features as multiple scan functions and memory names, as well as NOAA Weather Band & emergency alert reception*. On or off the road you can always enjoy the sophistication of high-quality audio. Illuminated keys and a large LCD with adjustable green backlighting for easy operation day or night help make the TM-271A the ideal companion for all your travels.
•

High power 60W output

•

Weather Alert (U.S. only)

•

U.S. MIL-STD 810 C/D/E/F

•

High quality front speaker

•

200 memory channels, plus one call channel

•

6 alphanumeric characters offers 100 memory channels

•

Multiple scan functions

•

CTCSS & DCS Encoder/Decoder

•

High frequency stability with built-in TCXO
View Current Kenwood TM 271A Radios For Sale
More info a bout standard Kenwood TM-271A mobile radio features
• Weather Alert Radio function checks the 1050 Hz tone from
NOAA (U.S.A./ Canada only).
• Menu allows for easy control and selecting of various
functions.
• Up to 200 memory channels to program frequencies and
other various data. (Up to 100 memory channels if Memory
Channel Names are assigned to the channels.)
• Continuous Tone Coded Squelch System (CTCSS) or
Digital Code Squelch (DCS) rejects unwanted calls from
other stations.
• Equipped with an easy-to-read large LCD with
alphanumeric display capability.
• TNC (E market models only)
• Free PC software (Memory Control Program) is available to
program the frequency, signalling, and other settings of your
transceiver.
View Current Kenwood TM 271A Radios For Sale