Yaesu FT-920 Ham Radio For Sale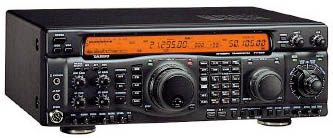 The Yaesu FT-920 Ham Radio is no longer made, but still is considered to have a leading edge in features. Fast DSP chip with great selectivity, with a full sized base station set up and feel. This is definately not your mobile ham radio.
View Current Yaesu FT-920 Transceivers For Sale
With the Yaesu FT-920 you also have a full sized main vfo and a sub vfo with a nice smooth tuning control. The black LED on amber light display makes everything easy to read and clear. Not a huge amount of sub menu settings to scan through, as this one has the size to fit in unique tuning knobs and buttons, (which is rare to find today, as ham radios become smaller and smaller in design).
This radio was made in the late 1990s and phased out a few years ago. Buying a Yaesu FT-920 would both help you find a high quality radio transceiver, while at the same time save you alot of money!!
View Current Yaesu FT-920 Transceivers For Sale
Standard Bells and Whistles

160-6 meters 100 Watts
MOSFET PA
Dual Watch
127 Memories
Notch Filter
IF Impulse Noise Blank

All-Mode D.S.P.
Automatic Antenna Tuner
Twin VFO Displays
Digital Voice Recorder
Twin VFO Knobs
IF Shift